Major Attractions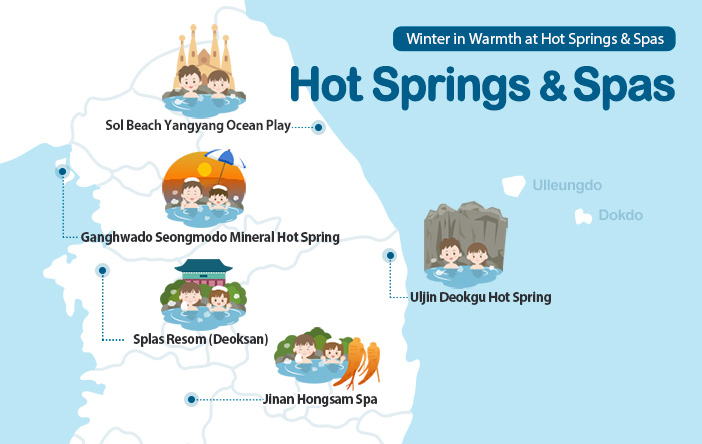 Tip) Hot spring, spa, sauna, jjimjilbang, public bathhouse...What's the difference?!
Before we get into the differences, let's take a look at the similarities. All of the facilities offer bathing and sauna amenities, as well as gender-segregated changing rooms and community areas. Some places will require wearing a swimsuit or rental clothing. It is common manner to take a quick shower before using the amenities!
1. Hot Spring

Hot springs use underground water that is naturally heated through geothermal energy. Korean hot springs use water that is at least 25℃, removing toxic components. The hot springs are divided into men and women pools, with some facilities also offering family pools and outdoor baths.

2. Spa

Spa is the general term to refer to any mineral spring or facility that offers health and beauty treatments, including but not limited to saunas, bathing pools, and steam baths.

3. Public bathhouse

Public bathhouses of all sizes can be found in nearly every neighborhood of Korea, from tiny little baths at apartment complexes to large facilities rivaling luxury spas. Most large bathhouses also offer jjimjilbang facilities. As all visitors must be completely naked to use the facilities, the baths and changing rooms are strictly divided by gender, with children over the age of four being prohibited from entering the opposite gender area as of January 1, 2020.

4. Sauna

Sauna originally referred to Finnish steam bath, but has now evolved to include all types of bathing in which one expels sweat. Most public bathhouses, jjimjilbang, and water parks in Korea include sauna facilities.

5. Jjimjilbang

Jjimjilbang refers to Korean-style saunas that use fire to create hot rooms. The use of a jjimjilbang will usually be 1,000 to 3,000 won on top of the basic bathhouse admission fee. Because jjimjilbang are open 24 hours, many travelers on a tight budget use them as cheap accommodations; most jjimjilbang have gender-segregated sleeping rooms, although you'll be sharing it with many other people so we recommend bringing some earplugs!
Ganghwado Seongmodo Mineral Hot Spring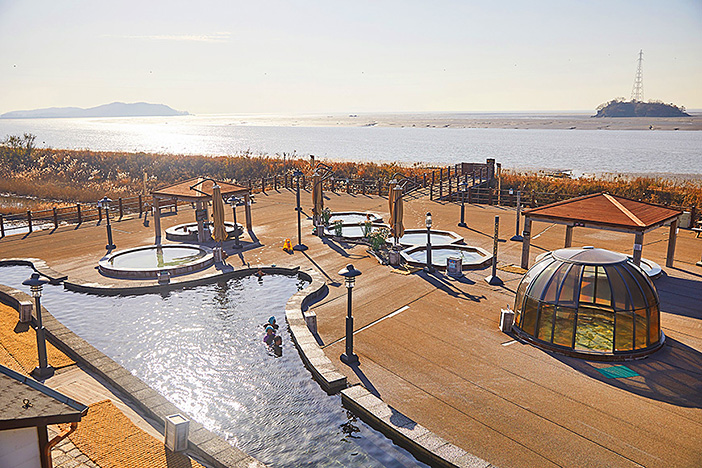 Seongmodo Mineral Hot Spring is one of the hottest new places in Ganghwado, famous for its fantastic view of the Yellow Sea. Because of its location on the western coast, it's great for watching the sun sink into the sea from one of the resorts 15 outdoor pools; just be sure to grab a spot early, as the pools quickly begin filling up with people all wanting to enjoy this experience. The hot spring snack bar even accepts phone orders, so you can keep your spot! Simply call to order coffee or sikhye (sweet rice drink) and they'll deliver it to your pool.

The water used at Seongmodo Mineral Hot Spring is completely untouched mineral water, creating a slippery consistence not found at most hot springs. If you happen to drink some of the water, you'll notice a salty taste, due to the high level of sodium. After a dip in the pools, it may feel like you have a slight film covering your skin. This is due to the minerals in the water, which are very good for promoting healthy skin. If you're sensitive, you'll probably want to wash it off, but be aware that the use of cleansing products such as shampoos and soaps are prohibited. If you really don't like the feeling, you can gently dry off with a towel.
Tip) Additional attractions on Ganghwado Island
Ganghwado Island offers both island and mainland attractions, being located so close to Incheon. While the island is relatively easily accessible from the Seoul metropolitan region, it is far enough away that just visiting the hot spring could feel like a waste of a trip. To really make use of your time here, be sure to add in one of the following attractions!
1. Ganghwa Seaside Resort Luge

Luge is an extreme sport that uses gravity to propel one down a sloped track on a sled-like vehicle. To reach the top of the Ganghwa Seaside Resort Luge track, you'll have to ride a gondola, offering outstanding views of the sea and mountains. Thanks to this preview of the landscape, you can fully enjoy racing down the 1.8 kilometer track without worrying about missing anything.

If you are interested in cultural attractions, be sure to visit Bomunsa Temple, located on Nakgasan Mountain on Seongmodo Island. From the moment you pass through Iljomun Gate, you'll be busy looking at the obaek nahan, 500 small figures, each with its own unique face. After you've had your fill of examining the faces to make sure they really are all different, head to the grand Geungnakbojeon Hall. If you're up for a bit of a walk, head up the 420 steps to the rock-carved Buddha, or further up Nunsseopbawi Rock to take in a panorama of the Yellow Sea.

3. UFO Café

The all-around best views of Ganghwado Island can be seen from UFO Café, located within Ganghwado Seaside Resort. The café makes a full 360-degree rotation every hour. Set out on a point, most of the views will include unobstructed views of the ocean. Leisurely take in the changing scenery over a coffee or dessert.

4. Local foods

All foods taste especially delicious after relaxing at a hot spring. To recharge your energy, we recommend a dish with broth. Ganghwado Island is famous for seafood, so go for a dish with freshly caught seafood! Shabu shabu meets both of these requirements, with the addition of beef for a filling meal.
Splas Resom (Deoksan)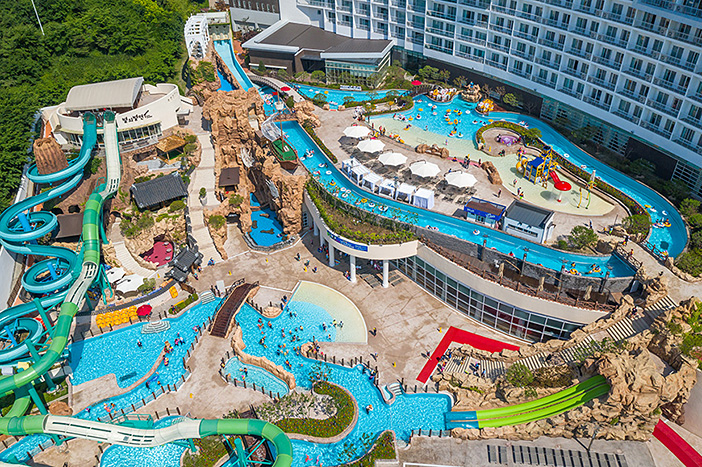 Splas Resom is a year-round hot spring theme park located in Yesan, just an hour and a half south of Seoul. The park features over 20 different spa pools and slides spread out over a 25,000㎡ area. Water attractions include a bade pool using 49℃ Germanium mineral water, a lazy river, and a wave pool with waves reaching 1.8 meters. One of the best features of Splas Resom is the Vital Therapy Center, offering programs by expert therapists for a relaxing and revitalizing vacation.
Sol Beach Yangyang Ocean Play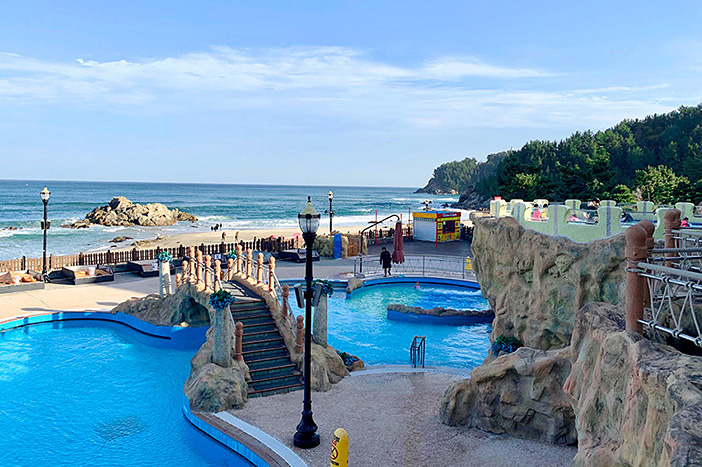 Located on the eastern coast, Sol Beach Yangyang Ocean Play is divided into indoor and outdoor zones. While the water park is open year-round, using the spa in winter is especially recommended. The park became quite popular when news of the clean outdoor zone overlooking the East Sea spread by word-of-mouth. The park exterior is designed with a motif of Park Güell, designed by Catalan architectural genius Gaudi, along with curving lines resembling ocean waves. The indoor zone also provides views of the East Sea while sheltering visitors from the weather. If you're looking to get a massage while you relax, check out the water massage systems in the spa zone. Best of all, the bade pool programs are included with admission!
Deokgu Spaworld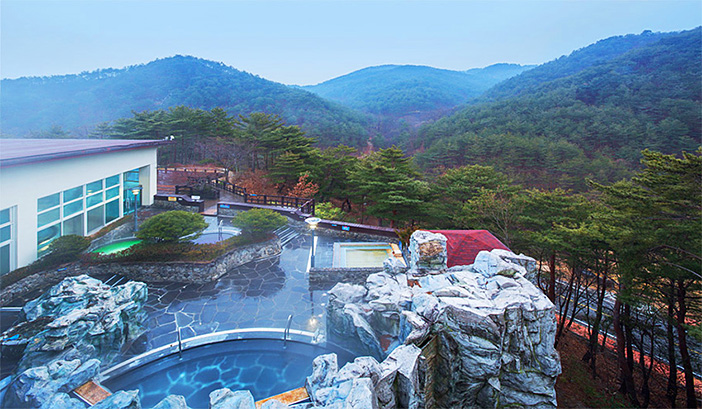 Deokgu Spaworld in Uljin is the only hot spring in Korea where the water naturally rises to the surface. Every day, nearly 2,000 tons of water flow through the water park, earning the resort the title of best "rest hot spring" in Gyeongsangbuk-do. The water reaches temperatures of over 42.4℃ and is full of minerals such as calcium and potassium. These qualities give the water healing properties, beneficial in treating various skin and health discomforts, such as neuralgia, arthritis, muscular pain, and more.

Another major attraction of Deokgu Spaworld is its location on the slopes of Eunbongsan Mountain. The outdoor pool offers beautiful views of fantastic rock formations and clear waters flowing through the valley below. The resort is great for family visitors, equipped with a kid's pool, outdoor sun tanning beds, a jasmine pool, hardwood sauna, and more.
Jinan Red Ginseng Spa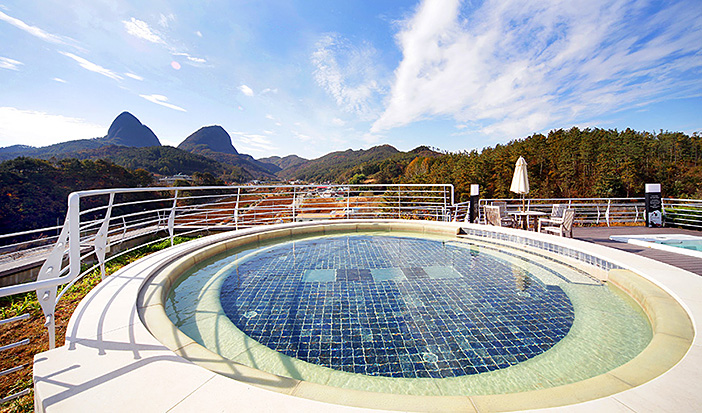 Jinan Red Ginseng Spa is located at the foot of Maisan Mountain in Jinan, a region famous for red ginseng. It is the only red ginseng medicinal spa in Korea, taking guidance from Donguibogam, an encyclopedia on the principles and practices of Eastern medicine. The spa is divided into the public spa and destination spa, with the systematic treatment programs of destination spa being extremely popular. The various therapy programs take place in private rooms, and range from herb therapy to thermal, bade pool, aroma, and more for nearly 10 unique treatments. The public spa is popular among family visitors, with attractions such as the outdoor pool on the rooftop or the sky garden mind pool, which offers views of Maisan Mountain while relaxing.