Year-round leisure sport, Gangchon Rail Park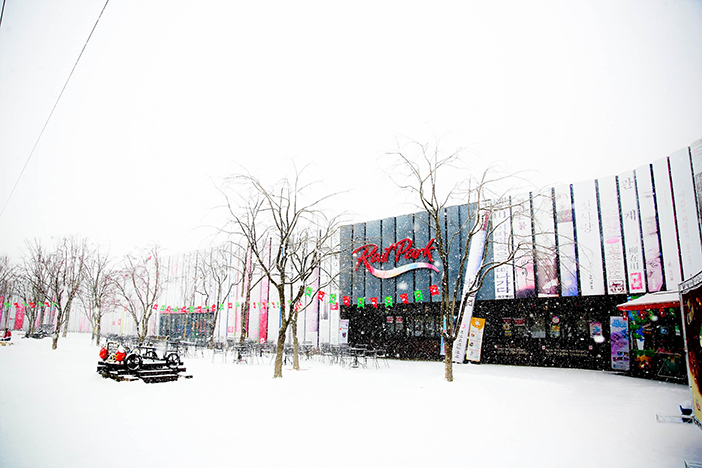 Gangchon offers beautiful scenery throughout the year. In particular, Gangchon Rail Park provides a way to enjoy fantastic winter scenes without having to trek through the cold, wet snow. Set on old railroad tracks, this leisure sport park uses the section between Gangchon and Gimyujeong Stations.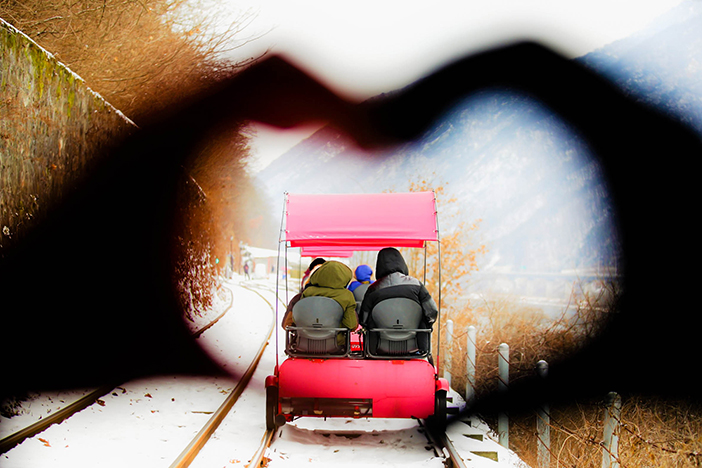 Riding on a rail bike is a romantic outdoor activity to enjoy in winter. You'll barely feel the cold as you pedal along with someone you love. In December and January, the mountains, fields, and river become glazed in sparkling white snow and ice. Gangchon Rail Park offers three courses: Gimyujeong Rail Bike, Gapyeong Rail Bike, and Gyeonggang Rail Bike. Gimyujeong Rail Bike is most popular, departing from the old Gimyujeong Station and passing through many themed tunnels.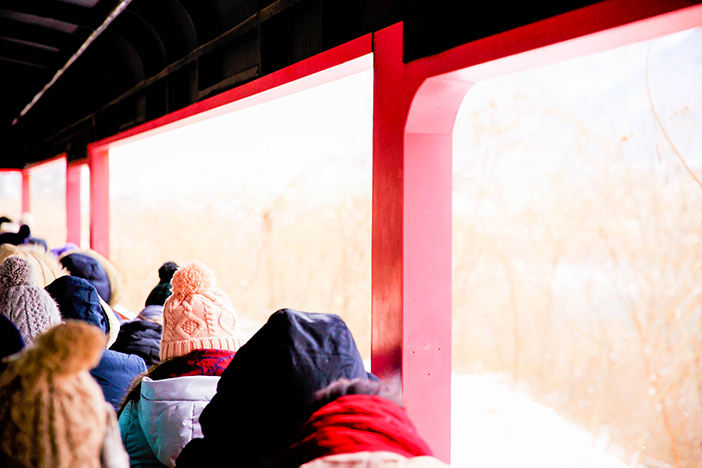 The Gimyujeong Rail Bike course is set on level ground, making it easy for all to move at a steady pace while taking in the fantastic surroundings. About halfway along the track, you'll come across a photo spot. Staff are on site to take your picture, which can be printed and placed in a frame for 10,000 won when you arrive at the rest area.

The first 6 kilometers of track from Gimyujeong Station until the rest area is traversed via rail bike; the remaining 2.5-kilometer-long section to Gangchon Station is completed via the Romantic Train. From here, you can head off to your next destination, or take the free shuttle bus back to Gimyujeong Station. While at the rest area, be sure to buy some warm snacks to enjoy and some small crafts or gift items!
Gangchon Rail Park - Gimyujeong Rail Bike
☞ Address: 1383, Gimyujeong-ro, Chuncheon-si, Gangwon-do (강원도 춘천시 신동면 김유정로 1383)
☞ Directions: Walk for approx. 5 min from Gimyujeong Station (Gyeongchun Line), Exit 1
☞ Operating hours: March-October 09:00-17:30 / November-February 09:00-16:30
☞ Fares (per bike): 2-seater 30,000 won / 4-seater 40,000 won * Additional 5,000 won charged per person for VR equipment rental
☞ Romantic Train: Departs from the rest area to Gangchon Station
☞ Shuttle Bus: Departs from Gangchon Village Parking Lot to Gimyujeong Station / Follow directions of staff to get from Gangchon Station to the parking lot * Train and bus schedules subject to change in accordance with rail bike arrival times; operates in 10~15 min intervals
☞ Website: www.railpark.co.kr (Korean, English, Chinese)
Perfect winter scene at the old Gimyujeong Train Station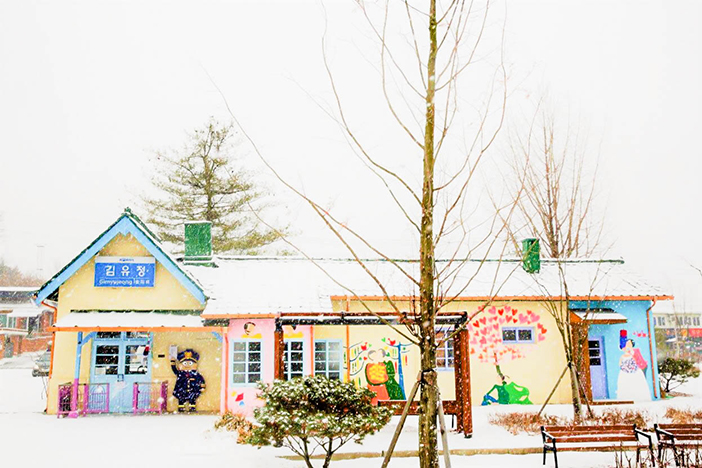 Gimyujeong Train Station is an old station located next to the current Gimyujeong Station on the Gyeongchun Metro Line. Rather than letting the station fall into disrepair like many other closed stations, it has been kept up and decorated with cute murals and sculptures, perfect for photo backgrounds. It is especially popular in winter when snow piles up on the rooftop and grounds, making the colorful artwork pop out even more.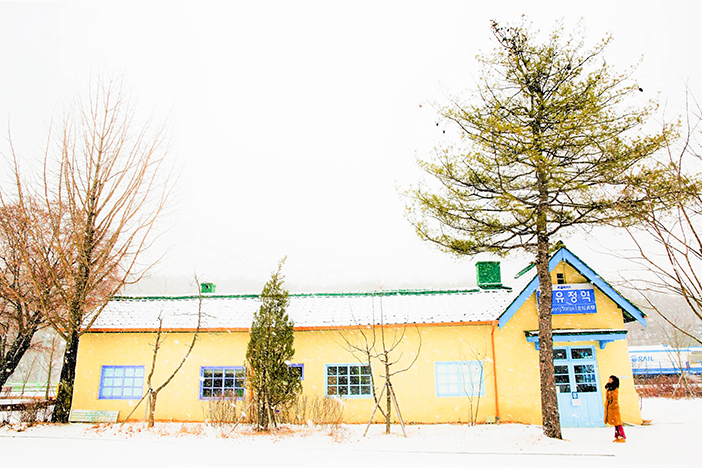 Old train cars still remain on the train tracks by Gimyujeong Station. In addition to the train cars, the tracks are also decorated with various statues and sculptures that will evoke a sense of wonder. After enjoying the winter landscape, head inside the station or one of the train cars to warm up. The cars have been transformed into spaces for visitors to relax, such as a book café and Chuncheon Tourist Information Center.
Old Gimyujeong Train Station
☞ Address: 1435, Gimyujeong-ro, Chuncheon-si, Gangwon-do (강원도 춘천시 신동면 김유정로 1435)
☞ Directions: Walk fpr approx. 5 min from Gimyujeong Station (Gyeongchun Line), Exit 1
☞ Operating hours: Open 24 hours
From subway to skiing! Elysian Gangchon Ski Resort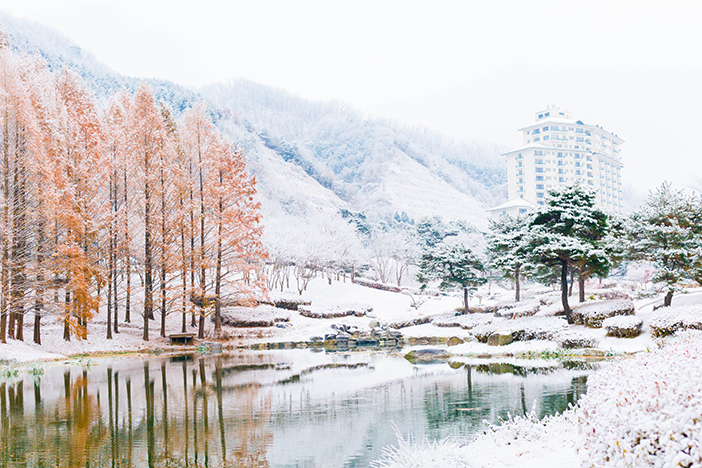 Elysian Gangchon is located next to a metro station, making it easily accessible from Seoul. The ski resort has six lifts servicing ten slopes of varying difficulty for beginners as well as intermediate and advanced skiers. Most of the slopes are aimed for people at a lower skill set, allowing everyone to have a good time. Visitors can enjoy the resort's many leisure activities and facilities while taking in the beautiful natural setting.
☞ Address: 688, Bukhangangbyeon-gil, Chuncheon-si, Gangwon-do (강원도 춘천시 남산면 북한강변길 688)
☞ Directions: Take the free shuttle bus from Baegyang-ri Station (Gyeongchun Line), Exit 1 (20 min intervals from 05:40).
☞ Ski season: November 22, 2019 - Early March 2019 (Planned; subject to change based on weather conditions)
☞ Inquiries: +82-33-260-2000 (Korean only) / +82-33-260-2005 (English only)
* English customer service line only in operation during ski season
☞ Website: www.elysian.co.kr (Korean, English, Chinese)
Bread to write home about, Arabista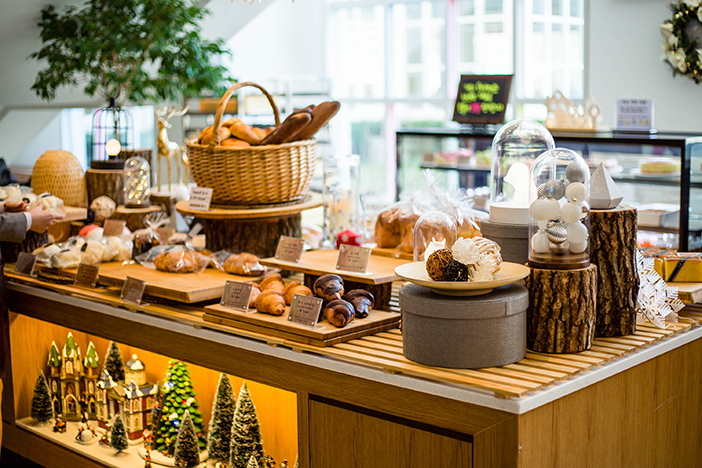 Arabista is a bakery serving outstanding baked goods, located on the first floor of the condo at Elysian Gangchon Resort. All items are freshly baked each day, using only organic yeast for a healthy snack. The bakery opens early in the morning, meaning visitors can stop by for a quick breakfast of warm bread and coffee before hitting the slopes. In addition to simple buns and croissants, Arabista also sells buns with sweet red bean or cream fillings and cake by the slice.
Arabista
☞ Address: 688, Bukhangangbyeon-gil, Chuncheon-si, Gangwon-do (강원도 춘천시 남산면 북한강변길 688)
☞ Operating hours: Sunday-Thursday 08:00-21:00 / Friday-Saturday 08:00-22:00
☞ Signature menus: Cinnamon bread 6,500 won / Croissant 2,800 won / White bun 2,700 won / Sweet red bean bread 2,200 won
Gangchon vacation: free of worry, full of flavor!
Smoky flavored sutbul dakgalbi at Hangajok Sutbul Dakgalbi
When visiting Gangchon, you have to include dakgalbi (spicy stir-fried chicken) on the menu! Hangajok Sutbul Dakgalbi is located within walking distance from Gimyujeong Station, making it the perfect place to stop after working up an appetite on the rail bike. The front garden is also decorated with many small, cute items, making it appear more like an outdoor art gallery than the entrance to a restaurant. Be sure to take some pictures before entering!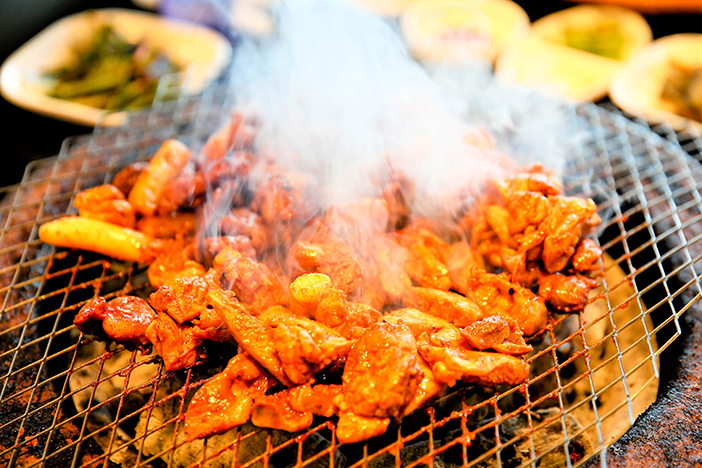 Dakgalbi, a grilled dish made of chicken marinated in a spicy gochujang (Korean chili paste) seasoning, is famous in the Gangchon and Chuncheon region. This dish can largely be classified into one of two ways, based on the grilling process. Sutbul dakgalbi is made with just chicken meat grilled over a charcoal fire, while many places will serve stir-fried dakgalbi, fried in a large pan with cabbage, sweet potato, and other ingredients. At Hangajok Sutbul Dakgalbi, diners can enjoy the rich, smoky flavoring of meat grilled directly over the fire. The restaurant's gochujang seasoning is also on the lower end of the spicy scale, so everyone can enjoy dakgalbi, bokkeumbap (fried rice) or makguksu (spicy buckwheat noodles) here.
Hangajok Sutbul Dakgalbi
☞ Address: 10, Sille-gil, Chuncheon-si, Gangwon-do (강원도 춘천시 신동면 실레길 10)
☞ Directions: Walk for approx. 10 min from Gimyujeong Station (Gyeongchun Line), Exit 1
☞ Operating hours: 10:00-22:00
☞ Signature menus: Sutbul dakgalbi 12,000 won / Bokkeumbap 2,000 won / Makguksu 7,000 won (Prices for single serving)
Natural beauty and sweet treats at Café Allmetree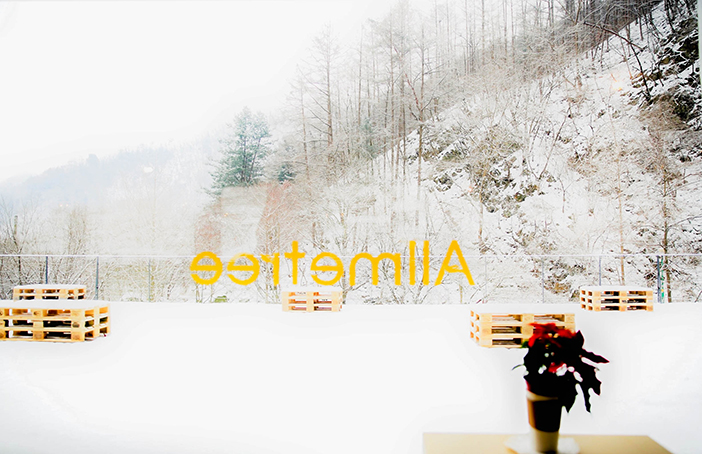 Allmetree is a café in the area of Gangchon Station and Gugokpokpo Falls that is quite popular among travelers. With grand floor-to-ceiling windows on all four sides, every seat provides an opportunity to take in the beautiful scenery outside. In winter, you can enjoy the feeling of a snowy wonderland while keeping warm and cozy indoors. If you're looking to get even closer to nature, take a seat on the wide terrace in the back of the café.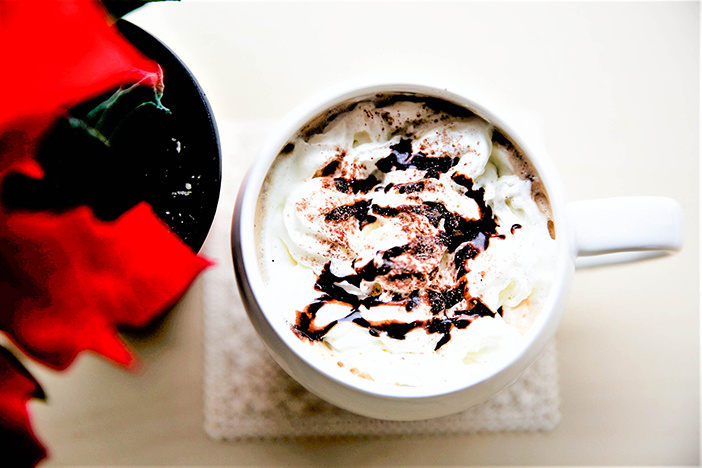 The best way to sweeten the winter cold is by digging into warm desserts. Allmetree serves various coffee drinks, but they are most famous for their sweet choco latte, topped with thick whipped cream. Your temperature will rise with each sip of this rich treat. If you're looking for something to eat, the café also serves cakes, including raspberry tart and chocolate roll cake. However, for something a bit more unique, order the penguin bread. These cute breads are shaped like adorable little penguins and come in a choice of chocolate or butter flavor. Whichever flavor you choose, you are sure to be pleased; just don't forget to take a picture beforehand!
Allmetree
☞ Address: 171, Gangchongugok-gil, Chuncheon-si, Gangwon-do (강원도 춘천시 남산면 강촌구곡길 171)
☞ Directions: Take a taxi for approx. 5 min from Gangchon Station (Gyeongchun Line), Exit 1
☞ Operating hours: 09:00-22:30 / Open all year round (Subject to change)
☞ Signature menus: Choco latte 7,500 won / Raspberry tart 6,000 won / Chocolate roll cake 6,000 won / Penguin bread (10 piece set) 5,000 won
More Info
☞ Related content
☞ Chuncheon Tourism website: tour.chuncheon.go.kr (Korean, English, Japanese, Chinese)
☞ 1330 Korea Travel Hotline: +82-2-1330 (Korean, English, Japanese, Chinese, Russian, Vietnamese, Thai, Malay)
* This column was last updated in January 2020, and therefore information may differ from what is presented here. We advise you to check details before visiting.