Photo: Sea train moving along the coastline of Donghae

The coastal cities of Gangneung, Donghae, and Samcheok in Gangwon-do offer a chance to ride the wonderful ocean-facing Sea Train, which runs along the coastline of the East Sea. The Sea Train presents unobstructed views as its windows are larger than those in standard trains. The region's well-known places like Jeongdongjin Beach, Mukho Port, and Samcheok Beach have a distinct impression when viewed from the train. The following column focuses on Jeongdongjin and Donghae, which are popular travel destinations for couples and families who come for the gorgeous sunrise and picturesque coastal village scenes.
Sea train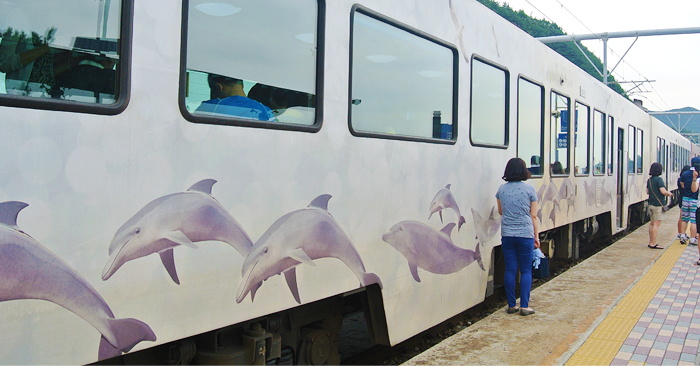 Photo: Exterior of Sea train dynamically decorated with dolphins

Photo: Seats in all compartments except family-seats face the large windows to the seaside
The Sea Train is composed of four cars: 2 first-class cars, 1 economy car, and 1 family car. The first and the second are first-class cars equipped with couple seats and all seats are window-facing. The third car has table seats designed for families, as well as regular train seats, and a cafeteria. The last car is mainly for accommodating group travelers with seats for two or three people. The train ride takes about 1 hour and 20 minutes for a one-way trip and 3 hours for a round trip.

Photo: Interior of the Sea Train adds a lively ambience with paintings of maritime creatures
In addition to the refreshing ocean views through the wide windows, the Sea Train interior has been decorated in an undersea motif with images of starfish, shellfish, and a trick art of a shark. Moreover, passengers will have no time to be bored as the train puts on motion sensing games and music that can be enjoyed through the monitors inside each compartment. Non-Korean speaking tourists can easily join in by following the motions of the passengers sitting around them, and might even receive a surprise gift from the DJ. Another noteworthy attraction is the display of green, red, and blue lights that illuminate the train interior whenever it passes through a tunnel, creating an offbeat atmosphere.
More Info

Sea Train

☞ Ticket Purchasing: Jeongdongjin Station, Donghae Station, Samcheok Station
* From Mukho Station, Chuam Station, and Samcheok Beach Station, tickets can be purchased onboard from the train crew.
☞ Fare (One-way): Car No. 1 & 2 (first-class seats) 15,000 won / Car No. 3 Family Seats (for 4 people) 50,000 won / Car No. 4 (economy seats) 12,000 won / Proposal Room (for 2 people)  50,000 won
☞ Schedule
Sea train tour
 
Jeongdongjin Station
Anin
Station (bypass)
Jeongdongjin Station
Mukho Station
Donghae Station
Chuam Station
Samcheok Beach Station
Samcheok Station
Weekend Mornings
07:10
07:26
07:38
08:02
08:13
08:22
08:26
08:33
Jeongdongjin to Samcheok
(year round)
10:30
10:46
10:58
11:22
11:33
11:42
11:46
11:53
14:10
14:26
14:38
15:02
15:13
15:22
15:26
15:33
Sea train tour
 

Samcheok Station

Samcheok Beach Station
Chuam Station
Donghae Station
Mukho Station
Jeongdongjin Station
Anin Station (bypass)
Jeongdongjin Station
Weekend Mornings
08:50
08:58
09:02
09:12
09:22
09:46
10:02
10:13
Jeongdongjin
to Samcheok (year round)
12:30
12:38
12:42
12:52
13:02
13:26
13:42
13:53
15:45
15:53
15:57
16:07
16:16
16:40
16:56
17:07
※ Trains may not operate on certain days of the month due to safety inspections.
※ Weekend morning train operates on weekends, public holidays, and specially disignated days. Please check the schedule from the official homepage in advance.
☞ Website: www.seatrain.co.kr (Korean only)
※ During the summer vacation season (July to August), the train is often fully-booked; we recommend making a reservation in advance through the Sea Train homepage.
☞ Inquiries: +82-33-573-5474 (Korean, Japanese)
Major tourist attractions
More Info

☞ Transportation to Jeongdongjin
[Train]
Cheongnyangni Station → Jeongdongjin Station
(First train 07:05, last train 23:25 / Train runs 6~7 times daily / Total travel time: approx. 4.5 to 5 hours / Fare: 19,300-22,200 won)
[Bus]
Dong Seoul Jonghap Bus Terminal → Donghae Express Bus Terminal
(First bus 06:45, last bus 20:30 / Bus runs 12 times daily / Total travel time: approx. 3 hours / Fare 17,000 won)
Seoul (Gyeongbu/Yeongdong Line) Express Bus Terminal → Donghae Express Bus Terminal
(First bus 06:30, last bus 23:30 / Bus runs 24 times daily / Total travel time: approx. 3 hours / Fare 16,800-24,800 won)
* A taxi from Donghae Bus Terminal to Donghae Station takes approximately 10 minutes.
* The above fares are for adults.
☞ Websites:
Gangneung Tour www.gntour.go.kr (Korean, English, Japanese, Chinese)
Donghae Tour www.dhtour.go.kr (Korean, English, Japanese, Chinese)
☞ 1330 Korea Travel Hotline: +82-2-1330 (Korean, English, Japanese, Chinese) 
* This column was last updated in September 2015, and therefore information may differ from what is presented here. We advise you to check details from the official websites before visiting.
<Last updated on September 21, 2015>