a Trip to the Buddhist Temples of Korea
Gangwon
Naksansa Temple was built by Silla Dynasty's Buddhist Master Uisang in the location where he received a revelation of Avalokitesvara Bodhisattva. The scenery of Naksansa Temple is so beautiful that it is considered a must-visit spot for visitors to Sokcho and Yangyang. In 2005, there was a large forest fire that destroyed much of the temple but even then, Hongnyeonam Hermitage high upon the cliff top was not damaged. Directly across from the hermitage is Uisangdae Pavilion, a popular site to watch the sunrise over the East Sea. Another of Naksansa Temple's charms can be felt when gazing upon the grand Avalokitesvara Bodhisattva statue. The figure has a height of 15 meters and circumference of 3 meters, and wears a gentle expression, as if relieving people's worries and forgiving their sins.  
☞ Address: 100, Naksansa-ro, Ganghyeon-myeon, Yangyang-gun, Gangwon-do
☞ Directions: From Yangyang Bus Terminal, take Bus No. 9 and get off at Seorak Beach Bus Stop → Walk approx. 750m to Naksansa Temple.
☞ Admission: 3,000 won
☞ Website: www.naksansa.or.kr (Korean only)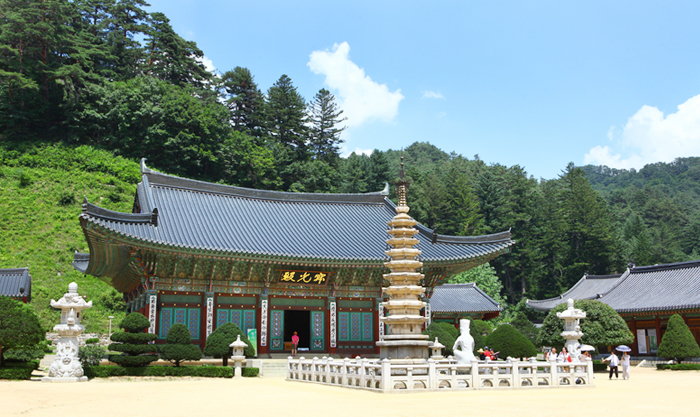 Photo: Landscape of Woljeongsa Temple
Woljeongsa Temple is a beautifully peaceful temple located within the lush forests of Odaesan National Park. Known to have been built sometime during the Silla Dynasty, the temple preserves numerous national treasures, with the large Octagonal Nine-Story Stone Pagoda being perhaps the most attractive of the cultural assets. The elaborately pieced Goryeo-era stone pagoda holds the earnest wishes of the people learning Buddha's way. When visiting the temple, be sure to stop by Woljeongsa Museum to see the countless treasures from temples around the nation that are stored there.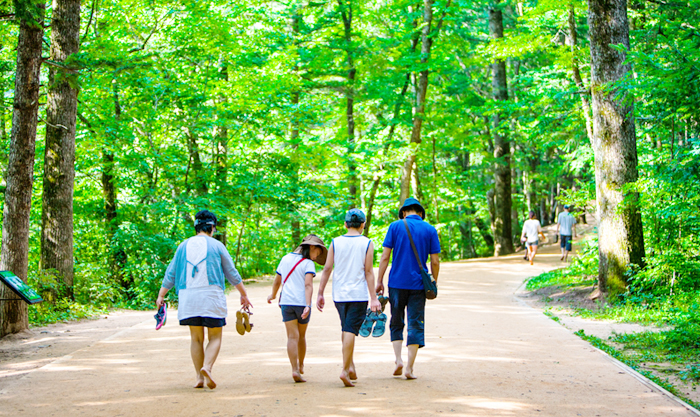 Photo: A family walking barefooted along the fir forest trail
After exploring the temple grounds, head over to the fir forest trail. The course is about 1km-long and is great for taking a short walk; many people find their spirits lifting and leave with a sense of peace.
☞ Address: 374-8, Odaesan-ro, Jinbu-myeon, Pyeongchang-gun, Gangwon-do
☞ Directions: From Jinbu Bus Terminal, take a bus bound for Jinbu-Sangwonsa and get off at Woljeongsa Bus Stop → Walk approx. 200m to the temple.
☞ Admission: 3,000 won
☞ Website: woljeongsa.org (Korean, English)