There's a reason why people have been long-awaiting the arrival of winter. 
The yearly Hwacheon Sancheoneo Ice Festival is a time of wintertime fun for many people, and it has now returned to the Gangwon-do city of Hwacheon. Kicking off on Jan. 9 in Hwacheon-gun County, Gangwon-do Province, the winter festival is now welcoming a huge throng of people coming to fish for 
sancheoneo
, or fresh water river trout.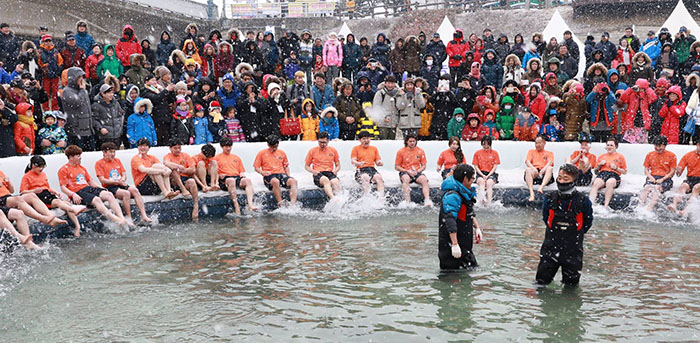 The festival attracts some 800,000 visitors to the small town in just nine days. It also attracts quite a number of non-Korean tourists, with as many as 35,000 coming here just to be part of the ice fishing fun. Last year, more than 54,000 non-Korean fishers had fun during the festival. 
You can't enjoy the festival to the fullest unless you try your hand at some ice trout fishing. People love catching fresh trout with their own fishing rod through a small hole in the frozen Hwacheon Stream, jerking the rod about quickly to nab a bite. Yanked out of the stream, the catches flop about on the ice, struggling and out of breath. As harsh as the cold is, it doesn't stop people from coming to enjoy the fun.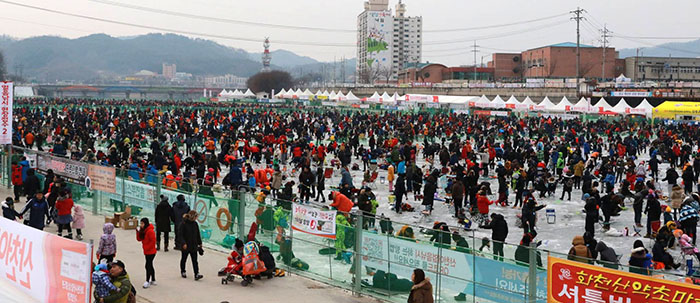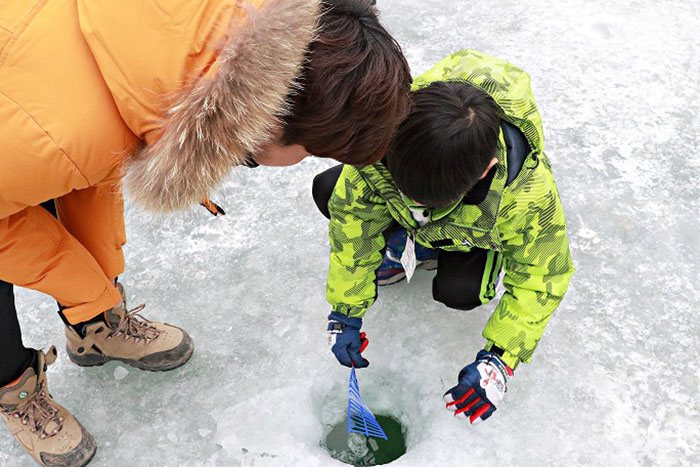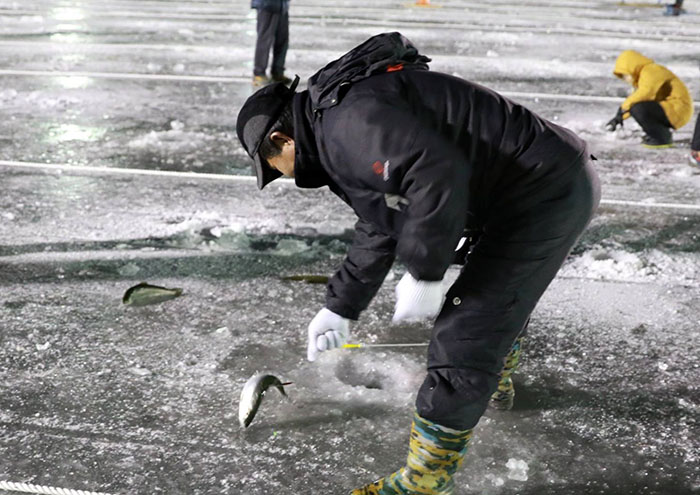 The designated fishing area is open until late at night, too. Night fishing starts at 8 p.m., allowing those who are too engrossed in their fishing to stop, to keep at it until 10 p.m. 
The festival has more than just trout fishing. There are other amusements to enjoy, too, such as sledding or skating along nature's own ice rink. People can also play soccer, ice hockey or curling or ride a bobsleigh, all on the ice. 
Those who want to try some ice fishing, either at day or at night, should pay KRW 12,000 as an entrance fee. Sled riders should pay KRW 5,000, while ice soccer, curling and ice hockey are all free.
More information can be found by clicking on the links below. 
http://www.narafestival.com/01_icenara/
 (Korean)
http://www.narafestival.com/ice_eng/
 (English)
By Sohn JiAe
Korea.net Staff Writer
Photos: the organizing committee of Hwacheon Sancheoneo Ice Festival
jiae5853@korea.kr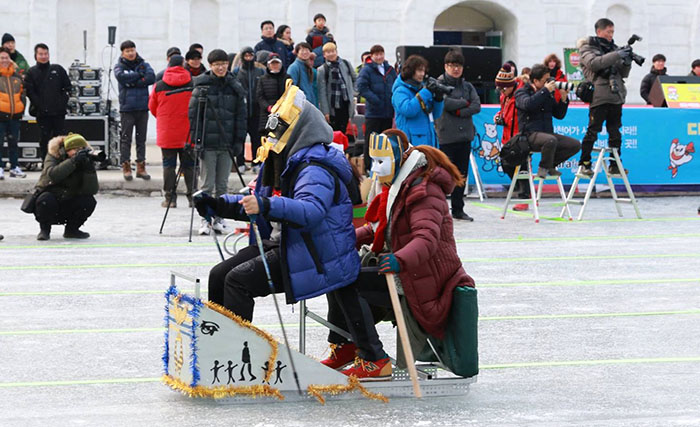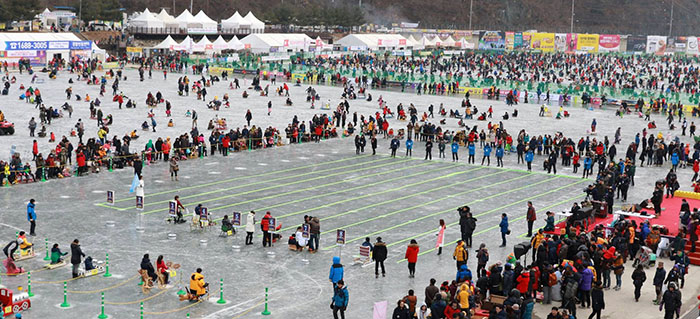 People enjoy sledding and bobsledding on the ice at the Hwacheon Sancheoneo Ice Festival. 
[이 게시물은 최고관리자님에 의해 2016-01-25 09:43:25 KOREA에서 이동 됨]